New York residents have "Trump" name removed from their buildings
Comments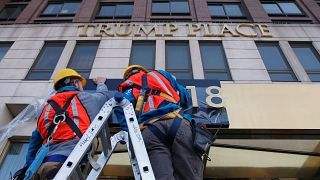 New York City residents in three luxury apartments, initially developed by President-elect Trump and displaying his name on their facades, voted to have the Trump moniker removed.
Hundreds of the apartments' residents signed an online petition saying they are embarrassed to be associated with the former property tycoon after his incendiary presidential campaign.
The apartments are located on Riverside Boulevard, on New York City's Upper West Side, and will now be known by their street addresses, 140, 160 and 180 Riverside.
"We are very excited and thrilled. It will be like a breath of fresh air, walking down Riverside Boulevard, not being embarrassed by the 'Trump Dump' name," said Marjorie Jacobs, a resident of one of the Trump apartments. "Once he started being very derogatory toward women, (making) racist remarks, and just being an overall total embarrassment, we knew that we did not feel safe with his name on the building."
The buildings are owned and managed by Chicago-based Equity Residential, which bought the properties in 2005. The company informed residents on Tuesday the roughly one metre tall gold lettering would be removed.
But company chairman Sam Zell said the petitions did not factor into the decision to remove the Trump signature.
Rather, the company wanted a neutral building identity.
Although the three residential towers displayed the Trump brand, he was forced to sell the property development in the 1970s to Hong Kong investors before they were finished.
Part of the terms of the sale was that Trump retained his name on the properties, according to NPR.
President-elect Trump's name appears on 17 properties in New York City. Some of them, including Trump Tower and 40 Wall Street, he Trump actually owns and have become tourist destinations.
But Trump doesn't actually own most of them, as outlined here.
President-elect Trump's shock election victory has angered many people in the United States and cities including New York, have been the scene of animated demonstrations.
Democratic candidate Hillary Clinton overwhelmingly won New York State, as well as New York City in last week's presidential election.