Deadly clashes in run-up to Yemen ceasefire
Comments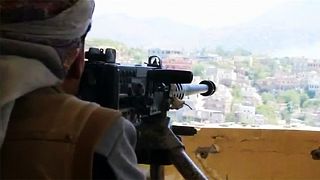 After 20 months of war, deadly clashes have continued to rage in Yemen ahead of a planned ceasefire.
In the city of Taiz, fighting between President Abd-Rabbu Mansour Hadi supporters and Houthis intensified on Wednesday.
Military sources said at least 51 fighters were killed in 24 hours in violence between rebels loyalist forces in western Yemen.
The Houthi group and the Saudi-led coalition fighting it have signed up to the truce – due to begin on Thursday – according to US Secretary of State John Kerry.
But the country's internationally recognised government has been quick to reject the move, complaining it has been left out of the process.
It may have little choice though if Saudi Arabia – which is helping Hadi financially and militarily – is in support.
More than 10,000 people have been killed and over three million displaced in the conflict so far, sparking a humanitarian catastrophe.
Kerry, in what could be his last trip to the Gulf before Obama's term ends in January, is seeking a breakthrough to end the fighting between the Houthis, allied to Iran, and the Saudi-backed government of Hadi.