Russia bribery inquiry - more suspects?
Comments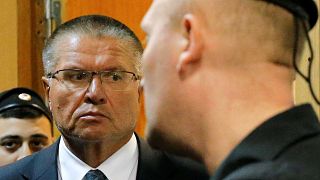 There could be more suspects in a criminal case, which has seen Russian Economy Minister Alexei Ulyukayev detained on bribery charges.
A Moscow court has put him under house arrest, accused of extorting a 1.8 million euro bribe from Rosneft, the country's biggest oil company.
President Vladimir Putin has dismissed Ulyukayev from his post.
"Of course this is a hard situation for those in power and for the government. What happened is beyond my understanding. I discussed this topic with the president of the country and he is of the same opinion," said Dmitry Medvedev, Russian Prime Minister.
"Nevertheless, the most thorough investigation of what has happened should take place in the framework set by the current legislation."
Russian newspapers are reporting that ministers and aides close to Medvedev could now be drawn into the same case, as they were allegedly also under surveillance.
Ulyukayev is accused of extorting a bribe in exchange for approving Rosneft's 4.6 billion euro purchase of a stake in oil producer Bashneft. He denies the charge.
Ulyukayev is the highest ranking Russian official to be detained while in office since the collapse of the Soviet Union.