Obama spreads message of 'calm' in Greece
Comments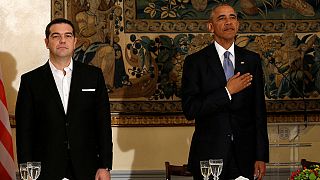 President Barack Obama leaves Greece later today after reassuring the NATO ally of the US's commitment to international alliances. The message is necessary due to the shock waves caused by the surprise election of Donald Trump. Obama has sought to spread calm despite the billionaire's campaign rhetoric.
"I was surprised by the election results…I still don't feel responsible for what the President-elect says or does"-POTUS</a> Obama in <a href="https://twitter.com/hashtag/Greece?src=hash">#Greece</a> <a href="https://t.co/I2hts1LELr">pic.twitter.com/I2hts1LELr</a></p>&mdash; Voice of America (VOANews) November 15, 2016
"We have inspired each other to reach for independence, stood in solidarity during war and peace, in good times and in bad, including these very difficult years for the Greek people. And tonight, I want you to know as you work to move your country forward, you will always have the support and friendship of the United States."
Earlier Greek Prime Minister Alexis Tsipras had welcomed Obama's promise to try and convince European lenders against relying only on austerity to tackle his country's debt problems.
Both the US and the International Monetary Fund have urged a restructuring of Greece's crippling debt load but face resistance from the European Union, particularly Germany, whose banks would be most exposed to such a move.
"The Greek economy and our society, after seven whole years, cannot take anymore austerity," said the Greek premier.
But leftist groups in Greece are angry that Obama, the first US leader to visit Athens since Bill Clinton in 1999, is visiting just two days before the anniversary of a bloody 1973 student revolt that helped topple a Greek military junta backed by Washington.
Clashes broke out not far from where the US president was being dined by the Greek government.
Obama's next stop is Germany on this his final European tour before handing over power to his successor in January.