Poland exhumes late president Kaczynski's remains
Comments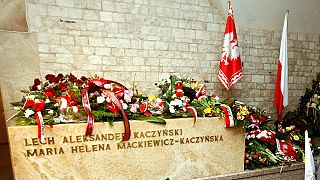 The bodies of late Polish President Lech Kaczynski and his wife Maria have been exhumed as part of a new investigation into the Smolensk plane crash.
The couple, and 94 others, were all killed six years ago.
Prosecutors say fresh forensic tests are needed to determine the cause of death and to check for explosives.
The Kaczynski's remains were removed from their tomb in Krakow late on Monday night. Around 80 other victims will also be exhumed, sparking protests from some of the victims' relatives.
Previous investigations – carried out by Poland and Russia – concluded that the 2010 crash was caused by a combination of heavy fog and pilot error.
But some in Poland's ruling Law and Justice party, including Kaczynski's twin brother Jaroslaw, have claimed the plane was brought down by an explosion, engineered by Russia.