Paul Ryan re-elected House speaker as Donald Trump struggles to form team
Comments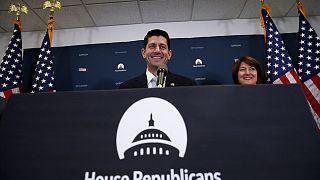 The House freshmen and women assembled on Capitol Hill on Tuesday for their photocall, Republicans and Democrats alike, and they will again have Paul Ryan as their speaker, the Republican house leader winning re-election to his job.
It is a tremendous honor to be nominated by my colleagues to serve as Speaker of the House. Now it's time to go big. pic.twitter.com/ot7fqYEGun

— Paul Ryan (@SpeakerRyan) November 15, 2016
As the new intake assembled there were rumblings from Manhattan, where Team Trump appeared to be in some disarray after House intelligence committee chair Mike Rogers stepped down.
"Welcome to the dawn of a new unified Republican government. Look, we are excited, we are on the same page with our president-elect. I talk with Donald Trump virtually every single day. I spoke with Mike Pence this morning. We are on the same page, we are working hand in glove and we are going to make sure that this is a very successful administration, but more importantly, we are going to make sure that the voices we heard from this election of the American people, are acted upon. That we actually fix this country's problems," said Ryan.
NBC reported Roger's departure as a "Stalinist coup" and it appears the president-elect is in fact struggling to get a unified team around him.
There is speculation that the plum job of Secretary of State may now go to former New York mayor Rudy Guiliani.
While Donald Trump is holed up in Manhattan forming his core administration students around the country in several cities are maintaining their protests.