Colombian government and FARC strike revised peace deal
Comments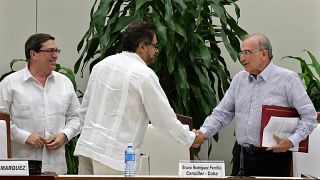 The Colombian government and FARC rebel group have agreed new terms to end a deadly 52-year war.
It comes six weeks after the original peace deal was narrowly rejected in a referendum.
There were objections that it was too favourable to the rebels.
"The September 26th deal was the best possible deal, even if subject to criticism," said Humberto de la Calle, chief government negotiator.
"It was the best because it allowed to put an end to the conflict while not discarding the frustration that it could generate," he continued.
"But today with humility I recognise that this new agreement is better because it resolves most of these criticisms and frustrations."
The FARC's chief negotiator added: "For example, concerning special jurisdiction for peace, the new deal incorporates no less than 65 percent of proposals from different sides that voted 'no' at the referendum."
Colombia's President, Juan Manuel Santos – who last month won the Nobel Peace Prize – has staked his legacy on a deal. He has spent the last few weeks trying to salvage it.
It is unclear whether the revised agreement will be put up for another popular vote.