Civilians fleeing Mosul fighting arrive at UN camps
Comments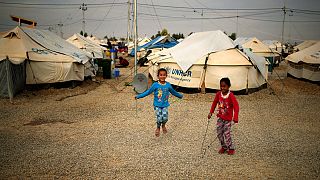 People fleeing the fighting amid the military offensive to retake the Iraqi city of Mosul have continued to arrive at UN camps in the region.
These pictures were filmed today at the Hassan Sham camp, 20 kilometres to the east of the self-styled Islamic State's last main stronghold in the country.
As thousands of people continue to arrive, the United Nations has been distributing food.
Earlier this week the UN said that more than 34,000 civilians had been displaced in the recent fighting, as Iraqi and Kurdish forces battle to retake Mosul. Over 11,000 were said to have fled since Iraqi forces entered the city.
Many have fled to such camps and other communities in neighbouring provinces.
Reports say ISIL fighters have executed scores more people around the city this week and have been stockpiling material for possible use as chemical weapons.
Some families have been recounting how they struggled to survive in Mosul under the rule of the extremists. Many who have arrived in the camps have young children.
The city fell to ISIL in the summer of 2014, causing a humanitarian crisis.