Big cholera vaccination campaign underway in Haiti
Comments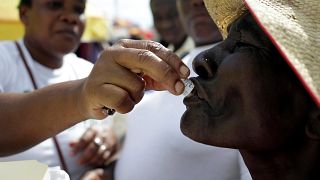 A massive cholera vaccination campaign has begun in hurricane-ravaged Haiti.
The country has been struggling with the disease since it was first brought in accidently in 2010 by UN peacekeepers, there in the aftermath of a devastating earthquake.
WHO</a>: Haiti <a href="https://twitter.com/hashtag/cholera?src=hash">#cholera</a> vaccine will prevent majority of severe cases<a href="https://t.co/XxRtfv69zn">https://t.co/XxRtfv69zn</a> <a href="https://t.co/HLh5vw1rct">pic.twitter.com/HLh5vw1rct</a></p>&mdash; UN Radio (UN_Radio) November 9, 2016
Some 820,000 people are being targeted in this campaign, described as the largest in the world.
Doctor Jean-Luc Poncelet, the Haiti representative of the Pan American Health Organisation and World Health Organisation, said: "The challenge for this vaccination campaign is first of all to reach everybody. As you know there are areas of the country that are not easy to access.
"Even before the hurricane it was kind of difficult, but the hurricane has complicated it very seriously. So road transport, bridges, etc., is a serious difficulty (…) the other issue is security.
"We have to ensure that there is no trouble; that the people can access without having interference from demonstrations or other adverse situations."
From Boston to #Haiti – Read how one doctor dropped everything to help us fight cholera after #HurricaneMatthew: https://t.co/1vbJJszcpM

—

USAID

(@USAID) November 8, 2016
There have been more than 1200 suspected cases of cholera in Haiti since the hurricane hit early last month.
Some 9,000 people have died from the disease since 2010, with more than 800,000 made sick.
#Cholera: We are supporting #Haiti to vaccinate some 800,000 people -16 communes in the departs. of Sud & Grand'Anse https://t.co/RhY2OaOcLrpic.twitter.com/yGglowgohR

—

PAHO

/WHO (@pahowho) November 9, 2016
#Haiti begins #vaccination campaign against #cholera in areas most affected by Hurricane Matthew | WHO</a> <a href="https://twitter.com/pahowho">pahowhohttps://t.co/7yoG4d8qeJpic.twitter.com/wLPL4LoOlw

— Post-Polio News (@postpolionews) November 9, 2016