"Work towards a smooth transition" - Obama
Comments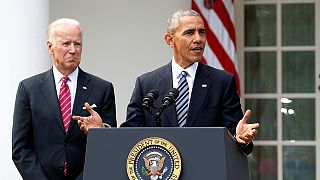 Incumbent US President Barack Obama urged Democrats to put aside their disappointment at the election result and work towards a smooth transition of political power.
"We are all rooting for his success in uniting and leading the country," Obama said.
"I want to make sure that the hand-off is well-executed because ultimately we are on the same team."
Obama worked hard on Democratic candidate Hillary Clinton's behalf during the bitter campaign.
President-elect Donald Trump has pledged to undo Obama's best legislative and executive accomplishments.