What does a Trump presidency mean for Europe?
Comments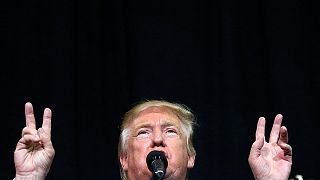 Defence
A win for Trump raises major question marks over key planks of American foreign policy, including the NATO alliance.
NATO – which consists of the US, Canada and more than two dozen European states – was established in the aftermath of World War II and is seen as a guard against Russian expansionism in Europe.
Trump has threatened to withdraw from the alliance because, he claimed, European states were not contributing enough.
That withdrawal, or the threat of it, will cause major concern in Eastern Europe and Baltic states, already concerned about Russia's military intentions in the aftermath of Moscow's annexation of Crimea.
Trade
The EU and US have been in talks to create the world's biggest free trade zone, in a bid to revive each other's economic fortunes.
But, even before Trump was elected, major doubts were emerging about whether a deal would ever be signed.
Francois Hollande has spoken out against it and the deal is said to be less attractive for the Americans since Britain voted to quit the European Union.
However the election of Trump could be the final nail in the coffin.
His stated policy is to withdraw from the Trans-Pacific Partnership – a trade deal involving US and several Pacific Rim countries, among others – and renegotiate the terms of NAFTA, a free trade agreement with Canada and Mexico.
The election of Trump, who backed Brexit, could also play into the hands of the UK. The billionaire's trade advisor was quoted last month as saying 'Britain would be offered a free trade deal before the rest of the European Union'.
Politics
Trump's brand of far-right populism is nothing new in Europe, you only have to look at UKIP's success with Brexit, Orbán in Hungary or the rise of Alternative for Germany.
But while the model of the billionaire's stateside success might not be anything revolutionary, it might provide a timely shot-in-the-arm for his political allies.
Look no further than France, which is holding presidential elections next spring.
Marine Le Pen, the leader of France's far-right Front National and already one of the frontrunners, was quick to congratulate Trump.
Her father, party founder Jean-Marie Le Pen who reached the second round of French presidential elections in 2002, added his voice.
"Today the United States, tomorrow France," he tweeted, while National Front deputy leader Florian Philippot followed up with a tweet saying "their world is crumbling. Ours is building."
Markets
European stock futures fell sharply on Wednesday and were poised for their worst day since the Brexit vote in the UK as global markets were left stunned by political outsider Donald Trump becoming the next U.S. President.
"A Trump presidency is not good news in itself: US isolationism and protectionism is bad news for trade and potentially for economic growth," said Ronny Claeys, senior strategist at KBC Asset Management in Brussels."
"We do not really know what his policies will be (his plans were too vague or too contradictory) so we have increased uncertainty."
Financial markets are treating this the way they treated 9/11 — a catastrophe with endless and unpredictable ramifications.

— Dan Gillmor (@dangillmor) November 9, 2016
Your view
How do you think Trump in the White House will affect your corner of Europe?
Let us know: witness@euronews.com