Rare blue diamond up for auction
Comments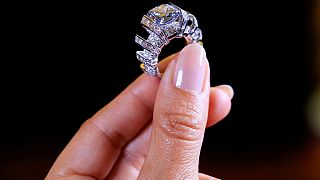 A rare "fancy, vivid blue diamond" ring is on display in Geneva, ahead of an auction next week where it is expected to fetch up to 25 million US dollars.
The details
The gem, named "The Sky Blue Diamond", weighs 8.01 carats.
It will be sold on November 16.
"Of the blue diamonds submitted to the GIA, it seems only less than 1 percent are graded vivid blue, so it shows you how extremely rare these stones are," said David Bennet, Chairman of Sotheby's International jewellery division.
Blue diamond record
In the past two years, Sotheby's has twice set a new world record auction price for a blue diamond.
Most recently, it was the Blue Moon of Josephine, sold for 48.5 million US dollars in November 2015.
Catherine the Great's necklace
Among other items to be auctioned by Sotheby's is a diamond necklace of royal Russian provenance.
Catherine the Great, who ascended to the Russian throne in 1762, is said to have commissioned the necklace.