Outsider populists hope to jump on Trump bandwagon
Comments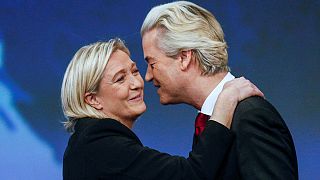 In Europe, politicians not in the mainstream, from the anti-establishment to the far right, are hoping to benefit from the success of Donald Trump or learn from his approach.
The far right in the Netherlands is convinced the wave that has taken Trump to the White House is also crossing the Atlantic.
Geert Wilders, leader of the far-right Dutch Freedom Party (PVV), said: "Yesterday showed – and that is what I will tell my voters – that everything is possible and this will not stop, you see the same movement in most of the other European countries.
"It is an enormous incentive that Donald Trump won the election yesterday for all of us freedom-and-patriotic-loving people."
It was the same kind of message from the far right party of Marine Le Pen in France, which goes to the polls next year.
"This is not the end of the World, this is the end of "a" world," she said.
"American people have given themselves the president they chose and not the one an installed system wanted them to validate, as if elections were just a formality, or a nuisance just for appearances or convenience."
The leader of the UK Independence Party, which was behind the push for Brexit, is a big fan of Trump and has even said he would like to work with him.
Nigel Farage tweeted: "I hand over the mantle to Trump! Many congratulations. You have fought a brave campaign."
Farage made appearances in the US alongside Trump during the campaign and is reportedly travelling back this weekend hoping to meet the new president.
Beppe Grillo, the founder of Italy's Five Star Movement told Euronews: "We are at a crossroads, this corncob-looking guy does not have great cultural skills.
"And this is the example of the tragedy and the apocalypse of how media traditionally inform. TV and newspapers are too far behind, delivering delayed information. They're not able to anticipate nothing, predict anything."