Disappointed Democrats still waiting to hear from Hillary Clinton
Comments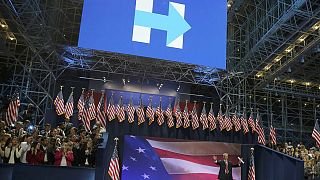 A tweet was the last thing the public heard from Hillary Clinton as the keys to the White House disappeared from reach.
This team has so much to be proud of. Whatever happens tonight, thank you for everything. pic.twitter.com/x13iWOzILL

— Hillary Clinton (@HillaryClinton) November 9, 2016
Her devastated supporters waited for an appearance at campaign headquaters, but instead it was her campaign chairman who fronted up.
John Podesta told the crowd: "Everybody should head home, you should get some sleep, we'll have more to say tomorrow.
"I want you to know, I want every person in this hall to know and I want every person across the country who supported Hillary to know that your voices and your enthusiasm means so much to her and to Tim (Kaine) and to all of us.
"We are so proud of you. And we are so proud of her."
The mood among Clinton supporters at New York's Javits Center on election night was far from joyous. https://t.co/iOAInOdRqk#Election2016pic.twitter.com/ehDk39Mr0P

—

ABC

News (@ABC) November 9, 2016
It had been reported that Clinton had earlier prepared a victory speech but also a speech in case of defeat.
But there conflicting reports about why Clinton chose not to make an address, as many had expected.
John Podesta spoke just before Clinton phoned Trump to concede defeat.
Democrat officials say Clinton will make a speech on Wednesday morning US time.
Democrats and anti-Trump protesters took to the streets in many centres to protest against the Republican's victory.
Clinton supporters across the US gather to protest Trump's victory https://t.co/eUZxlFiqTKpic.twitter.com/ossKxoLfGt

— Daily Mail US (@DailyMail) November 9, 2016