Refugees flee ISIL's Syrian stronghold of Raqqa
Comments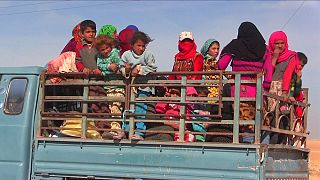 Hundreds of refugees have begun to flee ISIL's de facto capital of Raqqa in Syria as a US-backed coalition of Kurdish and Arab forces advances on the city.
The offensive, named ''Euphrates Anger'' is focused on areas north of Raqqa and aims to encircle and eventually recapture the jihadist stronghold.
Those who managed to get out spoke of their ordeal under ISIL.
"Daesh were punishing us for everything, bread was expensive, fuel was expensive, everything was expensive. They punished us for the smallest of things, but God will punish them," one woman said.
Raqqa like Mosul in Iraq holds huge symbolic value to ISIL. While US-led forces are reported to have captured a number of the group's positions on the outskirts of the city, there have been conflicting reports over the coalition's progress