EU-Turkey relations tense ahead of membership progress report
Comments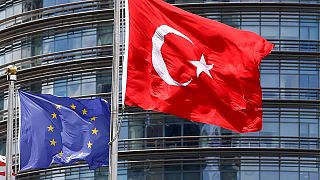 The EU has called on Turkey to restart political dialogue with opposition groups and protect its democracy, and described recent developments as 'extremely worrying'.
It comes a day before an annual EU assessment on Turkey's progress on EU membership and visa-free travel.
European Commission President Jean-Claude Juncker personally warned the Turkish leader saying:
"If tomorrow we refused visa liberalization for Turkey, the blame should not be put on Europe but on the Turkish authorities. Mr Erdogan will have to explain to the Turks why they cannot travel freely across Europe like every other European, because he will be the one who has not fulfilled the conditions jointly agreed between Turkey and the European Union."
The row over the EU-Turkey deal has been bubbling for months. Ankara agreed to stem the flow of migrants to the EU via Greece, while Brussels said it would allow Turkish citizens visa-free travel in Europe.
Adding to the tensions with Turkey, the EU Foreign Policy chief voiced concerns over Turkey's plans to reinstate the death penalty, newspaper closures and the arrest of opposition politicians.
Turkey-Germany relations have also taken a hit. Berlin rejected Turkey's claims that it supports terrorist organisations citing the Kurdish PPK party, saying 'repeating claims does not make them right."
Turkey's Foreign Minister responded that "European friends must change their perception" adding that "Germany thinks it is a first class democracy and Turkey is second class", before asking to be treated as equal partners.