Ammar Sahar, the refugee referee
Comments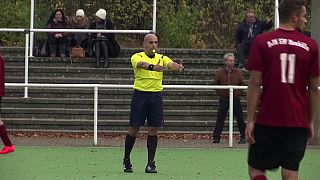 Millions of people have fled war-torn Syrian hoping for a better and safer life elsewhere.
One such refugee is Ammar Sahar who appears to be settling well into his new life in Germany after just one year.
The former Syrian topflight referee has already overseen matches in the Berlin league in the sixth tier of German football and now has his sights firmly set on officiating at the highest level.
He said: "I am hoping to get to the Bundesliga 1 and Bundesliga 2 in the future. I work hard every day to get to the next level in the German leagues, until I arrive at the Bundesliga. The Bundesliga is one of the best leagues in Europe and in the World as is the case of the English and Spanish leagues."
Sahar got in touch with the Berlin football federation and was initially given three games to referee as a test. He admitted that the language barrier proved to be a bit of an issue at first.
Ammar Sahar on his communication during matches: "When I started to work as a referee in the Berlin League I had this problem. I was just a beginner (newcomer) and I could not speak German, so I had a communication problem with the players. But now I have a little more experience, I've learned a lot of new German words, specifically football terminology".
After seeing his potential, the Berlin football federation sent 27-year-old Sahar to a referee camp – on Sunday he officiated his fifth match.
And with the German topflight his ultimate goal, the final whistle on his career appears far from being blown.