Kremlin denies any link to alleged plot to kill Montenegro PM
Comments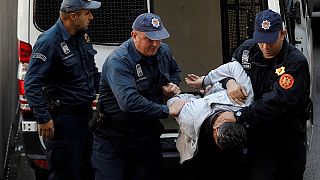 Russia has categorically denied any involvement in an alleged plot to assassinate Montenegrin Prime Minister Milo Djukanovic.
The denial by the Kremlin comes after Montenegro's chief special prosecutor Milivoje Katnic said Russian nationalists were behind last month's attempt to kill the Balkan country's pro-western leader over his government's plans to join NATO.
"We will continue to cooperate with Russia because, at this particular phase of the process, we have gathered evidence to indicate that those behind this criminal group are nationalists from Russia, Russian citizens,"Milivoje Katnic said.
The special prosecutor added that the plotters had wanted to kill Djukanovic in order to bring a pro-Russian government to power. He said they had planned to do this by using a long-distance sharpshooter and breaking into parliament, while some 500 people were also set to enter the country to stir up violence.
20 Serbian and Montenegrin citizens were arrested last month during the country's election day. 14 of those still remain in custody.
Prime Minister Djukanovic had presented the October election as a choice between the West or becoming a ''Russian Colony''.
Montenegro is widely expected to join NATO early next year and the claim Russian nationalists were behind the alleged coup comes amid fierce opposition from Moscow over the Balkan country's plans to become a part of the military alliance.