Murray reaches summit of world rankings following stunning season-long battle with Djokovic
Comments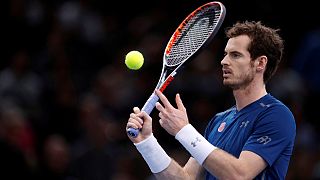 Britain's Andy Murray has continued his stellar season by reaching the summit of the men's world rankings for the first time in his career.
Murray ended Novak Djokovic's 122 week reign as top dog after he reached the final of the Paris Masters and Djokovic failed to make it past the quarters.
Murray and his game have been boosted by Ivan Lendl rejoining his training team as well as the joys of being a first time father. It has translated into an outstanding season.
Djokovic began 2016 winning the opening grand slam tournament, beating Murray in the final of the Australian Open in January.
But a determined Murray retaliated in May by beating his Serbian rival to win the Italian Open on clay.
The ding dong battle between the pair carried over to Paris where both men again met in the final of the French Open.
Djokovic completed his collection of career grand slams prevailing in the showpiece match on the red dust of the French capital.
The following major tournament didn't quite go to plan for Djokovic, who was eliminated by American Sam Querry in the third round.
Murray, however, was in fine fettle and went on to win the Wimbledon singles title for a second time of his career.
In the final Murray beat Canada's Milos Raonic in three tightly contested sets for his third grand slam crown.
Full of confidence and pride Murray headed to the Rio Olympics as Team GB's flagbearer.
It would be a trip to South America he will never forget.
And like at Wimbledon a tearful Djokovic went out early as Murray charged ahead to take the gold – his second Olympic success after triumphing on home soil in 2012.
It would be a gold medal-winning trip to South America for the Scot who celebrated his second straight Olympic success. A tearful Djokovic was eliminated at the first Olympic hurdle.
Murray continued his title-winning form in Beijing, Shanghai and Vienna.
He has reached 11 finals in his past 12 events, and before Sunday's finale at the Paris Masters, has won 73 matches this year which is a personal record.
It's form that has now seen him rise to the pinnacle of his sport and become the first British player to do so since computerised rankings began in 1973.