Turkey: pro-Kurdish HDP leaders 'arrested in counter-terrorism probe'
Comments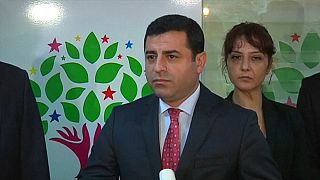 Turkish police have detained the co-leaders of the pro-Kurdish HDP party as part of an ongoing counter-terrorism investigation, security officials say.
Selahattin Demirtas tweeted that police had turned up at his house in Diyarbakir, southern Turkey. The state-run Anadolu agency reports he and his co-chair, Figen Yuksekdag, who was arrested in Ankara, had refused to testify in the probe carried out by the Diyarbakir Public Prosecutor's Office.
#Yüksekdağ: Savcınız da haydut siz de haydutsunuz! pic.twitter.com/drI9aPry7u

— HDP (@HDPgenelmerkezi) November 3, 2016
At least 11 HDP MPs are said to have been taken into custody, but the number is allegedly rising. Earlier in 2016, rules granting politicians parliamentary immunity were lifted under the state of emergency currently in place in Turkey.
16 MPs from pro-Kurdish - nearly a third of the party - in custody or had their homes searched tonight. Rumours of warrants out for all 59. pic.twitter.com/YB24CAUdc4

— JamesInTurkey.com (@jamesinturkey) November 3, 2016