South Korea political favours scandal intensifies
Comments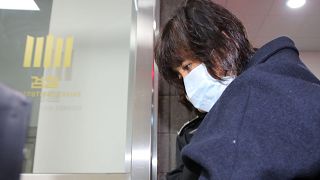 The woman at the centre of a political scandal that has shaken the presidency in South Korea has appeared in court in Seoul.
Choi Soon-sil is suspected of using her friendship with President Park Geun-hye to influence state affairs.
She was detained on Monday.
The court is to review the detention warrant request, while prosecutors are seeking to charge her with abuse of power and attempted fraud.
The president apologised last week for giving Choi access to draft speeches. But questions remain over the full extent of their ties.
Prosecutors are looking into whether Choi used her friendship with the president to force businesses to donate funds to non-profit foundations, and whether she benefited financially.
Each day rallies have been held by people calling for President Park's removal.
She has replaced her prime minister and finance minister, a move denounced by the opposition as an attempt to divert attention from the scandal.
Meanwhile a former senior adviser to the president has become the second person to be arrested over the scandal.
An Chong-bum, who stepped down late last month, was detained late on Wednesday. Police have said they are looking into allegations that he and Choi Soon-sil have sought to use their connections with the president for illicit means.