Chicago Cubs end 'curse' with first baseball title in 108 years
Comments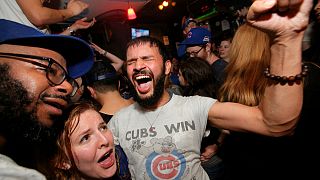 The beloved baseball team of Chicago ended the longest title drought in American sports history on Wednesday night (2 November).
The Cubs broke their infamous "curse" by beating the Cleveland Indians in dramatic fashion to win the 2016 Major League Baseball World Series. The 8-7, 10 inning victory in the best-of-seven game series was the first time Cubs fans celebrated since 1908.
The curse
For more than a century the famous baseball club and their loyal fans had to endure what seemed like an eternity of bad luck, heartbreak and misfortune to finally lift the World Series trophy.
The 'Lovable Losers' seemed to be riddled with more curses than one could imagine. From baseball icon Babe Ruth's famous 'called shot' in 1932 that crushed the hearts of Cubs fans, to the bad omen black cat that invaded the field in 1969, no other American sports team has experienced the sad-sack history of the Cubs. Yet, one curse stood out from the rest, the "Billy goat curse."
In 1945, diehard Cubs fan and bar owner, Billy Sianis bought two tickets for game four of the World Series (the last time the Cubs were in the annual championship) against the Detroit Tigers. One ticket for himself, the other for his pet goat, Murphy. As legend has it, Sianis and Murphy were told to leave Wrigley Field stadium because the stench of the goat was bothering fans. As the two were being ushered away from the stadium, the outraged Sianis threw up his arms and yelled, "Them Cubs, they ain't gonna win no more!"
The Cubs lost the 1945 World Series and were never the same again – until last night.