South Korea names new PM amid scandal
Comments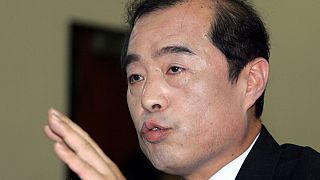 South Korea's prime minister and finance minister have both been replaced in a high-level shake-up, critics say is aimed at deflecting attention from a major presidential scandal.
Kim Byong-joon, a senior presidential secretary during former president Roh Moo-hyun's administration, was named the new prime minister to replace Hwang Kyo-ahn.
Financial Services Commission chairman Yim Jong-yong has been named as finance minister and deputy prime minister. Yim, who will replace incumbent minister Yoo Il-ho, has been well-regarded by policy makers and market participants in his current role.
The prime minister's role in South Korea is largely administrative.
The administration of President Park Geun-hye has been rocked by accusations that a friend of hers has been meddling in state affairs.
The woman Choi Soon-sil is currently in custody under investigation by prosecuters.
A televised apology by Park last week for giving Choi access to draft speeches during the first months of her presidency has done little to deflect demands that Park reveal the full nature of her ties with Choi and whether she enjoyed favours because of her friendship with the president.