Pope Francis praises secular Sweden over asylum seekers
Comments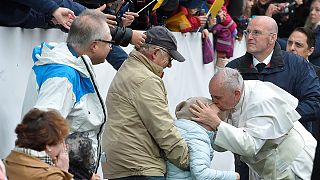 Pope Francis has praised as "blessed" people who take in asylum seekers, as he celebrated Mass with thousands of followers during his visit to Sweden.
His comments in a football stadium in Malmo held special symbolism: the city has become a gateway for immigrants who have fled wars in the Middle East.
Sweden's small Catholic community has grown, largely thanks to many refugees and migrants among its ranks.
Citing Jesus' "Sermon on the Mount", Francis highlighted those who renounce their own comfort in order to help others.
The country, which is largely secular, accepted tens of thousands of asylum seekers last year, in contrast to many other European nations.
However strains on the welfare system, as well as reports of crime committed by some newcomers, have prompted doubts among many Swedes.
The main purpose of the pope's two-day trip was to take part in a joint commemoration with Lutherans on the 500th anniversary of the start of the Reformation.
Pope Francis celebrates Mass, presses his call for Catholics and Lutherans in Sweden to forge greater unity. https://t.co/7hlAz6ON0u

— The Associated Press (@AP) November 1, 2016