Clinton campaign slams FBI for 'double standards'
Comments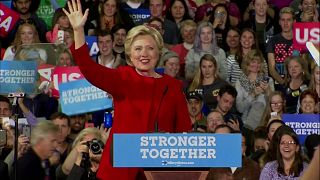 Hillary Clinton's team has slammed FBI Director James Comey for what it's labelled a "very clear and extremely troubling double standard" over the latest inquiry into her email use.
Her Vice Presidential candidate Tim Kaine urged Comey to give "the US public and Congress a clear explanation of why there is a double standard."
There have been reports the Democrats were targeted by Russian hackers intent on swaying next week's election in favour of Republican candidate, Donald Trump.
Comey is alleged to have advised against publically accusing Russia of interference until after the ballot. His concern, several weeks ago, was reportedly due to the proximity of the vote.
Clinton's campaign manager Robby Mook called on the Bureau director to "immediately explain this incongruence." He went on to accuse Comey of releasing inconclusive information about the Democratic candidate and said he ought to do the same for her Republican rival.
"If you're in the business of releasing information about investigations on presidential candidates, release everything you have on Donald Trump. Release the information on his connections to the Russians," he said in a CNN interview.
"Trump is not a Republican candidate" – our Washington correspondent's view