LIVE: euronews coverage of the US 2016 Presidential Election
Comments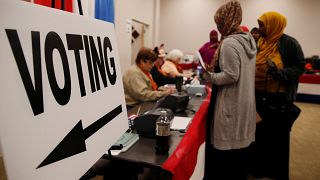 With one week to go until the United States votes for a new president, both the Hillary Clinton and Donald Trump campaigns are in overdrive vying for crucial votes throughout the country.
Polling data suggest Clinton is in the lead both in polls and in early voting counts.
But this election is hardly written as recent weeks have shown. Both candidates are bitterly embroiled in scandals that could derail their election prospects.
So as the vote looms, we here at euronews will provide you a synthesis of what is being reported worldwide. Follow us on this page:
We will bring you analysis, breaking news coverage, and poll-tracking information to help you follow, understand and digest this election.