More personal attacks in the countdown to US election
Comments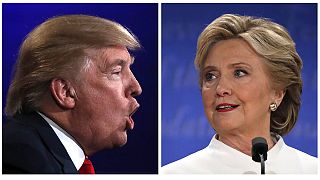 With just a week to go to the presidential election both candidates have ratcheted up their attacks on the other's character and fitness for office.
The email scandal is still providing Republican candidate Donald Trump with plenty of material – the latest that his rival Hillary Clinton was unfairly provided debate questions in advance during the Democratic primary campaign.
"What I care about is Hillary Clinton gets the questions to a debate, that's a big deal, and then what happens is the media they never say 'why didn't you turn it in, why did you use those questions?' She used the questions now on numerous occasions because this just came out today," Donald Trump told supporters.
Meanwhile Clinton who has been put on the defensive by a new FBI probe into her emails, counter attacked over Trump's understanding about the dangers of nuclear weapons and then asked her supporters to consider just how they'd feel if there wasn't a Democrat win on November 8.
"It's prudent to imagine what could happen if we don't do our part and when in the future somebody asks you – maybe your kids or your grandkids – what did you do when everything was on the line, I want you to be able to say I voted for a better, fairer, stronger America," Hillary Clinton said.
Opinion polls now shows Clinton's lead over Trump has narrowed slightly. It is not yet known if the email controversy will hurt her support. Millions of Americans have already cast their ballot in early voting.