Trump's 'lack of ground game' could make all the difference - euronews correspondent
Comments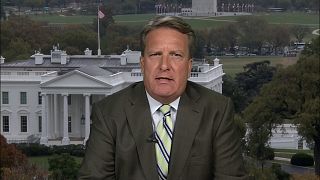 A week from today, Americans will be voting after one of the most bitter election campaigns in decades. Mark Davis spoke to euronews' Washington correspondent Stefan Grobe for the latest on the race for the White House.
He has violated practically all rules of traditional campaigning.

Washington correspondent
Mark Davis, Lyon
"Stefan, by reviving its investigation into Clinton's emails, the FBI has put itself under a lot of political pressure one week before a presidential election. Realistically, can the Bureau provide any conclusions before Americans have to vote?"
Stefan Grobe, Washington
"Well, it's a complicated and lengthy process. So, what the FBI started doing on Monday (October 31) was loading a trove of emails belonging to a Clinton top aide into a special computer programme that would allow the bureau's experts to determine whether they contain classified information or not.
"Then, the FBI would need to prove whether classified information has been improperly sent intentionally or whether someone tried to conceal new emails from the FBI. Both would be a crime.
"Whether investigators will be able to complete this process by election day is very unclear at this point."
Mark Davis
"As the public digests all this, how is it influencing opinion polls?"
Stefan Grobe
"The FBI announcement certainly slowed the momentum of the Clinton campaign and many staffers and volunteers of hers are becoming nervous.
"There are two national polls out today: one sees Clinton with a 6 point lead, this is unchanged, the other sees Trump with a 1 point lead which is a new development well within the margin of error."
Mark Davis
"Should it lose, the Republican party risks losing its third consecutive election, something that hasn't happened since World War 2. How is Donald Trump's campaign strategy any different from those of Mitt Romney and John McCain in the last two elections?"
Stefan Grobe
"Throughout the campaign – and that includes the primary season – he has violated practically all rules of traditional campaigning relying solely on 3 pillars: Twitter, one is free media coverage and the other is the system of big rallies. He doesn't do anything else.
"He doesn't have a ground game to speak of. He leaves that to the Republican national committee that is struggling to keep up with the vast and very sophisticated Clinton operation.
"This will probably make the difference on election day."