More tremors predicted after Italy's latest earthquake
Comments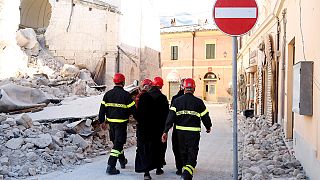 From the sky the damage to Castelluccio di Norcia is clear: a fire service video reveals that many buildings in have been reduced to rubble. The hilltop village lies close to the epicentre of Italy's strongest earthquake for over 35 years.
The earthquake will unfortunately be followed by a sequence of aftershocks

Italian seismologist
No-one was killed or seriously injured: most vulnerable zones had already been closed off or been vacated after repeated tremors over the past two months.
More than 15,000 people in the central region are staying in hotels and temporary shelters. Some from Norcia have been moved to nearby Corciano.
"People are dismayed, distraught, psychologically destroyed because they know they've lost everything, they don't know when they will be able to return home, if they still have a home, if they still have a future. Our problem is that we all have a business, we all have jobs and right now we've lost everything. We have nothing in our hands and we live in a state of deep anguish that's eating us inside," said Francesco Battilocchi, an evacuee and local councillor from Norcia.
Already there are fears for local tourism: the area is much visited during the flowering season of spring and early summer.
"Seismic contagion" causes thousands to flee homes in towns across central Italy #ItalyEarthquakehttps://t.co/7wNUR1q9Kd

— La Stampa (@LaStampa) October 31, 2016
The quake of magnitude 6.5 on Sunday morning is thought to be the strongest in Italy since 1980.
The Apennine region runs along a major fault line, and experts say further tremors should be expected.
"The earthquake of magnitude 6.5 earthquake will, unfortunately, be followed by a quite long sequence of aftershocks; some might even have a high magnitude. We can't say whether the tremors will be comparable to the main quake, but certainly we can say that this situation will last for several more weeks," said Andrea Tertulliani, seismologist at Italy's National Institute of Geophysics and Volcanology.
Another aerial video from the fire department revealed damage even to the imposing Redentore Mountain near the earthquake's epicentre.
Long cracks now scar the mountainside, a visible reminder of its power.