Protesters gain access to restricted area of European Council ahead of CETA signing
Comments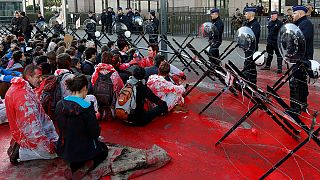 Dramatic scenes took place outside the European Council in Brussels ahead of the signing of the landmark CETA trade pact.
A group of protesters managed to enter a restricted area to demonstrate against the Comprehensive and Economic Trade Agreement between Canada and the EU.
Around 15 people were taken away by police.
Those opposing the pact say they fear it will weaken existing standards and regulations on health, safety, environmental protection and workers' rights.
A long time in the making
After seven years of negotiations all EU member states reached a consensus on Friday (October 28). All 28 nations had to endorse CETA for it to be finalised.
It is hoped the deal, which removes 98 percent of tariffs, will bring a trade increase worth some 10.9 billion euros a year.
EU exporters are expected to save up to 500 million euros in duties annually.
Canadian Prime Minister Justin Trudeau flew to the Belgian capital to sign the pact.
Hard work and patience paid off. Looking forward to tomorrow's #EUCanada Summit. #CETApic.twitter.com/H8dcZkIxo9

— Jean-Claude Juncker (@JunckerEU) October 29, 2016
.@eucopresident My thanks to @cafreeland for her skill & dedication in negotiating a deal to grow Canada's middle class & strengthen our economy. #CETA

— Justin Trudeau (@JustinTrudeau) October 28, 2016