The EU and Canada sign historic CETA trade treaty
Comments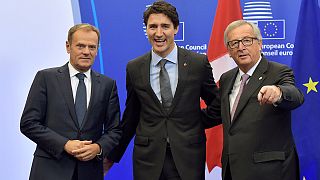 It was an historic moment in Brussels.
After seven years of negotiations, the European Union and Canada signed the landmark Comprehensive and Economic Trade Agreement (CETA) on Sunday (October 30).
Canadian Prime Minister Justin Trudeau joined European Council President Donald Tusk and other EU officials in the Belgian capital, after weeks of uncertainty following opposition to the treaty from within Belgium.
Signed. Signé. pic.twitter.com/TDNqMo2pkB

— Justin Trudeau (@JustinTrudeau) October 30, 2016
Tusk said putting the deal into practice would be the best way to learn from it.
"For our citizens, I have no doubt that the so-called provisional application, the implementation […] will be the best form of education. Much better than persuasion or words. And this is for me the main ground of our very cautious optimism," he told a press conference after the signing of the treaty.
The 28 EU member states reached the consensus needed on Friday (October 28). Each of the nations had to endorse CETA for it to be finalised.
"Small business, consumers, will start to feel the benefits of this immediately, even before all the 28 different parliaments proceed with their ratification steps, for that final step," said Trudeau.
"So, we are confident that demonstrating that trade is good for the middle class and those working hard to join it throughout the region, we'll make sure that everyone gets that this is a good thing for our economies, but is also a good example to the world."
It is hoped the deal, which removes 98 percent of tariffs, will bring a trade increase worth some 10.9 billion euros per year.
EU exporters are expected to save up to 500 million euros in duties annually.
Not entirely smooth sailing
Dramatic scenes took place outside the European Council in Brussels ahead of the signing pact.
A group of protesters managed to enter a restricted area to demonstrate against the deal.
Around 15 people were taken away by police.
Those opposing the agreement say they fear it will weaken existing standards and regulations on health, safety, environmental protection and workers' rights.