Pirates set to make big gains but not enough to take over Iceland
Comments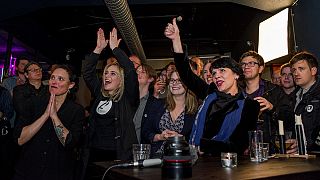 Iceland's anti-establishment Pirate Party is set to make significant gains in the country's parliamentary elections, but not as big as previously predicted.
Founded only four years ago by former hackers, partial results put the Pirates in third place, behind the conservative Independence Party and Left-Green movement.
The Pirate Party's leader Birgitta Jonsdottir said: "It's really incredible also to have been able to help facilitate and create a movement of young and old people that want to participate in co-creating our society."
Iceland's centre-right Independence Party appeared to be the biggest winner of the night, with early indications giving it around 30 percent of the vote.
Independence Party Leader Bjarni Benediktsson said:
"Well I think it's too early to say but certainly based on this we hope to continue in government and form a strong new government for Iceland's future."
Early results also show Iceland could end up politically split, with no single party or coalition on course to secure an outright majority to form the next government.