Georgians prepare to vote in parliamentary election run-off
Comments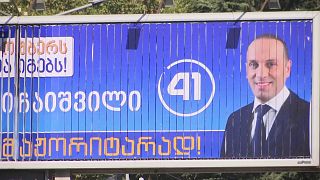 Georgians go the polls this weekend for the second round run-off of the parliamentary elections.
The ruling Georgian Dream party – which is pro-Western, but also favours closer ties with Russia – has its sights set on netting a constitutional majority.
That would allow the party to pursue controversial amendments to the constitution.
"I am going to the elections. If only one political power wins, it will be very dangerous – because they will go ahead with reforms that suit them," said Margarita Lonidi, a Tbilisi resident.
"I think it's important people's opinions are heard."
Voting will take place on Sunday in 50 of Georgia's 73 election districts.
Georgian Dream needs to win 37 from 50 seats to bag the constitutional majority.
A US ally traditionally buffeted between Russia and the West, Georgia hopes to join the European Union and NATO one day – even though that is strongly opposed by Russia, its former colonial master.