Child prodigies, Budapest's secret sex truck and a new head for the baby Jesus.
She is only 4 years old, but already speaks 7 languages
Bella is a child with extraordinary abilities. At the age of 4, she already speaks 7 languages with no trace of an accent.
The young Russian girl first came to public attention in a programme called "Extraordinary people". She speaks Russian (her native language) French, German, Spanish, Chinese, Arab and English.
Syrian boy falls in love with hockey
Mohammed Al-Masri grins from ear to ear as he gives a move-by-move account of the goal he scored during his first hockey game.
The nine-year-old arrived with his family from Syria eight months ago, and Mohammed and his two brothers started asking to play hockey almost immediately.
The boys had never heard of hockey before arriving in Canada, but they became fascinated with it after meeting a 12-year-old Ottawa boy named Fahed and his parents.
Allan Martel was the person to help the Al-Masri family navigate their new life in Ottawa.
"Over the summer, we outfitted the kids with equipment. We were able to cover the cost for registration for the kids. And so here they are, and they're having a great time playing hockey," he said.
Mohammed and his younger brother Ahmad, 8, are playing on the novice-level team, along with their friend Ismael Yasen, 9, who also came to Ottawa with his family from Syria.
The older Al-Masri brother, Hamada, 12 is playing on a different team.
Killer escapes Rome prison after Italian earthquake
Three prisoners, including a convicted murderer, escaped in the chaotic aftermath of the earthquake that rocked central Italy on Wednesday evening.
The trio had been moved from a prison in Camerino to Rome after the earthquake in central Italy in August.
They took advantage of the lower-security jail in Rome to make their bid for freedom, using bed sheets tied to broom handles.
Sex truck in the city
A big black truck has been seen circulating on the crowded streets of Budapest at the end of October, but nobody knew why – until somebody published this image on Facebook: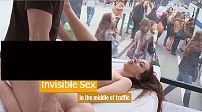 The truck is the mobile set of an "adult-film". Those who are outside see nothing of what is happening on the inside – but those inside see everything and everybody who is on the streets.
If they are looking, that is. The people who are walking in the streets will be the backdrop of the porn movie, shooting inside.
Pro-vagina and anti-Trump Pussy Riot song
Pussy Riot are back with an single that celebrates the vagina and hits back at Donald Trump after his "grab them by the pussy" boast.
The Russian punk band debuted the 'Straight Outta Vagina' song on Tuesday, featuring Pussy Riot's balaclava-clad Nadya Tolokonnikova wearing white clerical robes and recruiting a young girl in a church.
Other scenes show women standing at urinals and men in high heels – and an inflatable duck.
Donald's Trump Star on Hollywood Walk of Fame Is Smashed
A man dressed as a construction worker took a sledgehammer and a pickaxe to Donald J. Trump's star on the Hollywood Walk of Fame early on Wednesday morning, smashing the sidewalk symbol and trying to remove it, according to a witness and the police.
A spokeswoman for the Los Angeles Police Department, Officer Norma Eisenman, said the authorities received a phone call reporting the incident at about 6 a.m. The defaced site was later secured, and a tent covering placed over the star, Officer Eisenman said.
A man dressed as a construction worker smashed Trump's star on the Walk of Fame with a sledgehammer and a pickax https://t.co/2m9ZIEzT8a

— The New York Times (@nytimes) October 26, 2016
On Thursday, a suspect was pulled over and arrested on a charge of felony vandalism while en route to the Walk of Fame, where he was planning to explain his actions, said Sgt. Barry Montgomery, a spokesman for the Los Angeles Police Department.
Trump's Walk of Fame star smashed with a sledgehammer (VIDEO) https://t.co/yr84Ik4qQXpic.twitter.com/RYXMVqsVm9

— RT (@RT_com) October 28, 2016
Trump's Walk of Fame:http://www.nytimes.com/2016/10/27/us/politics/trump-star-on-hollywood-walk-of-fame-is-smashed.html?_r=0
Wingsuit crashes into a Tree
Eric was very lucky ! On 29th September, he was living out his dream by proximity wingsuit base jumping in Chamonix, France. But he made a mistake that most people would pay for with their lives, he lost speed and altitude and flew into a tree.
He filmed the whole sequence with a cam plug on his helmet.
Eric flew through a tree at more than 90mph! His injuries were "only" a left scapula fracture, left acromian fracture, left neck abrasion, left clavicle fracture, 3 left side rib fractures, left hemopneumothorax, grade 1, liver laceration, head trauma, multiple scalp lacerations.
https://www.facebook.com/eric.dossantos.5
Although Eric has comprehensive insurance, they are not going to cover everything. One of his friends has decided to launch an crowdfunding appeal to finance the cost of his treatment.
https://www.gofundme.com/eric-dossantos-2w2tvek
https://newswire.storyful.com/storylines/*/stories/146498?referred_from=World%20News
Baby Jesus get a new head
A new head for a baby Jesus statue is causing trouble in Canada.
The statue had been vandalized before at least once and it's always the infant's head that goes missing – maybe because it's smaller and easier to break off.
In the past, parishioners have always found the head nearby and were able to reattach it.
But this time they found nothing.
Replacing the entire statue would cost between 6000 and 10000 dollars. So they asked a local artist to fix the statue.
The result was not quite what they were expecting.
Sources:
Russian girl speaks seven languanges
Syrian boy and canadian hockey
Military action made panic in Corsica
Shocking Jesus statue
Porno truck in Budapest streets#
Change your name to Iphone7
Trump's Walk of Fame
Italy prison break
Pussy riot new single