Plane scary: airport touch-downs that take your breath away
Comments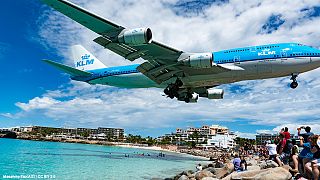 Bad news for plane spotters. The Dutch airline KLM has announced that from October 30, the airport of Saint Martin in the Caribbean, will no longer be served by Boeing 747s.
Sint Maarten landing in slow motion!https://t.co/KfaPZko0fQ

— Royal Dutch Airlines (@KLM) 11 avril 2016
The Princess Juliana International Airport is famous for its track located just behind the beach. Approaching aircrafts pass a few meters above the bathers just before landing. Emotions are guaranteed! Because of this, the place is considered one of the best "spots" to take incredible shots or videos.
On October 28, the last KLM 747 will land on Saint Martin. Maho Beach may be crowded. For the last time, the towels will be washed away by the breath of the four engines of the Boeing!
The KLM Boeing 747 was the biggest airplane that landed on this airport, located in the Dutch part of the island. The flight KL785 used to land here three times a week from Amsterdam. The return flight was not direct, the flight plan included a stopover in Willemstad (Curaçao).
However, KLM will continue to operate a route to Saint Martin. The flight will now be carried out by an Airbus A330-200, also three times a week. In addition, the return will be direct. Unlike the Boeing 747, which had 408 seats, the Airbus will have only 243 seats. The sister company to KLM, Air France, which also flies to Saint Martin from Paris does better in this regard. The French company provides its travelers with an Airbus A340-300 with 275 seats.
The Saint Martin track is not the only one that is scary. Dozens of airports worldwide are also known for their difficulty of access and for the fears they cause to pilots and passengers. Impossible locations, bad weather… euronews offers a selection of these airports.
Illustrative photo: Masahiro TAKAGI / CC BY 2.0