Final countdown to US election - our correspondent's take
Comments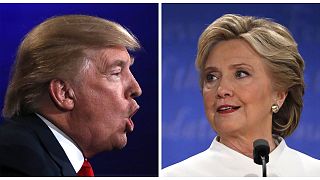 With less than two weeks to go until the much-anticipated US presidential election, Euronews' Washington correspondent Stefan Grobe reflects on how both Hillary Clinton and Donald Trump are faring in the race for the White House.
"The latest schedule of the Trump campaign has many analysts scratching their heads. While the candidate himself took a break to concentrate on his real estate business in deeply Democratic Washington, DC, his running mate Mike Pence stomps in Utah and Nebraska this week – two heavily Republican states," said Grobe.
"On top of that, Trump is putting resources back into Virginia where he has virtually no chance of winning. So, is Trump desperate or is he cocky? Does he know something that we don't know?
"Meanwhile Hillary Clinton is fending off the fallout of bad headlines from Obama's health care law and of the daily WikiLeaks dump. So far the hacked emails have rather been embarrassing than damaging. But who knows what's coming next – there are still 13 days to go."