Vatican issues rules on cremation ashes
Comments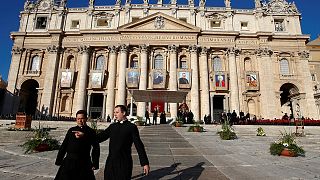 The Vatican has banned Catholics from keeping the ashes of loved ones at home.
In newly published guidelines, a preference for burial has been expressed in keeping with the teachings of the resurrection of the body. But if cremation is to be carried out the ashes must be kept in a "sacred place" such as a cemetery.
Cardinal Gerhard Müller, the prefect of the Congregation for the Doctrine of the Faith, explained:
"The ashes of the believers must be preserved by rule into a holy location as in a cemetery or in a church or in an area specifically dedicated to this purpose. The preservation of the ashes into a domestic residence is not allowed."
The Vatican has felt the need to issue guidelines in the light of the growing popularity of keeping ashes of loved ones in urns on display, scattering them in the air,on land or at sea or even pressing them into jewelry.
The Church said could not permit or condone attitudes such as considering death as the "definitive annihilation of the person, or the moment of fusion with Mother Nature or the universe, or as a stage in the cycle of regeneration."
Vatican releases instruction on burial, cremation; forbids scattering ashes or keeping cremated remains at home https://t.co/31r7PTd024pic.twitter.com/p9rlaRZFrG

— Catholic News Svc (@CatholicNewsSvc) October 25, 2016