German police launch 13 raids in anti-terror operation
Comments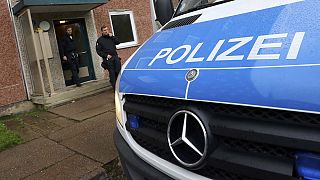 German police launched 13 simultaneous raids on apartments and a refugee centre in a major anti-terrorism operation.
The investigation saw police search residences in Thuringia and Saxony in the east, Bavaria in the south and North Rhine-Westphalia in the west as well as Hamburg.
So far authorities say no solid risk of an attack was uncovered.
The investigation began last year with the arrest of a 28-year-old Russian citizen of Chechen origin who was suspected of preparing an attack, and of wanting to join the so-called Islamic State in Syria. Ten other individuals emerged in the course of the inquiry, suspected of financing terrorism.
Germany has been on a heightened state of alert since the Summer. In July, two attacks within the space of a week were claimed by ISIL.