Out of the 'Jungle': migrant children find new life in UK
Comments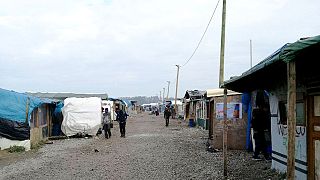 A week before the evacuation of the Calais 'Jungle' camp today, Britain started taking in some of the 1,300 or so unaccompanied children and youths stranded in the filthy, sprawling makeshift camp in northern France
The government has prioritised those who can claim family ties in the UK. But other vulnerable lone youngsters are also being accepted, under a change in the law.
Groups working with migrants however have criticised a lack of organisation.
"It's been like sitting in the passenger seat of a car headed very, very slowly towards a cliff," said George Gabriel of the 'Citizens UK' community organisation.
"We knew the demolition was coming, we knew that in the last demolition 126 children went missing and we knew that this time it would be worse."
Big turnout to welcome #ChildrenOfCalais as they arrived at Lunar House this afternoon. Well done to all who made this happen. #calaiskidspic.twitter.com/Y8aEJhwjWR

— Citizens UK (@CitizensUK) 21 octobre 2016
Media claims that some new arrivals were, in fact, adults, led authorities to put up screens to protect their anonymity.
Local councils have agreed to take them in.
"What will happen is that those children will be met by trained social workers and they will then be put into foster care," said Stephen Cowan, the leader of Hammersmith and Fulham Council in London.
"A lot of this is last minute. It is good that the government had a change of heart. But it is too late and we need to make sure that no child is left behind."
Waiting for their turn to be processed in #Calaispic.twitter.com/UBx0feXDX0

— Safe Passage UK (@safepassageuk) 24 octobre 2016
French sources say some 200 children have so far come to Britain. The fate of hundreds more remains uncertain.
But it will not lie in the soon-to-be destroyed 'Jungle' – described as "a desperate, dangerous, horrible place, nowhere any adult should be, let alone any child" by Jonathan Clark, the Bishop of Croydon in south London, where the youngsters have been arriving, as they start their new life in the UK.