France begins evacuating migrants from Calais 'jungle' camp
Comments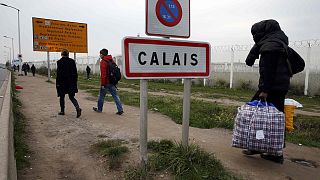 France has begun clearing migrants from the Calais camp nicknamed the "jungle" ahead of dismantling it by the end of this week.
The first bus left at 08.00 CET on Monday, carrying 50 people from Sudan who had arrived at the transit centre shortly earlier.
The government says it is acting on humanitarian grounds as the camp is in a squalid condition and is unable to cope with the 7,000 people who are currently living there.
On Monday (Oct 24) sixty buses will transport the first wave of migrants to reception centres scattered around France where they will be able to apply for asylum.
From Tuesday (Oct 25 ), heavy machinery will be sent to clear the tents and shelters that have been left behind.
But the fate of some 1,300 unaccompanied minors is still uncertain.
Calais' regional Prefect, Fabienne Buccio told reporters that measure had been put in place:
"We have set up a special processing system, this has taken a long time, a very particular processing system for the minors. So there will be a specific registration for minors tomorrow at the SAS (sorting centre), with a French-British team that will take charge of them."
France and UK rush to process Calais minors as camp demolition nears: Charities fear children could get… https://t.co/feTEe8WhI9 (Gua)

— Thus Spake (@thus_spake) October 23, 2016
However, charities have criticised the slow pace at which both British and French officials have so far processed the papers of children fleeing countries such as Syria Afghanistan and Eritrea.
Extra police are to be deployed in the camp as there are concerns some migrants will refuse to leave because they still want to get to Britain.Those who refuse to move face arrest.
Around 200 unaccompanied children have left the camp for the UK, some are to join other family members while others are without relatives there but are judged to be vulnerable.