Venezuela suspends recall referendum plans
Comments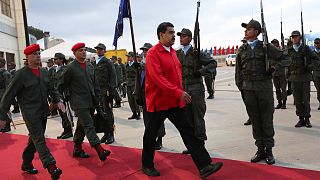 We have a government of thieves, using power to maintain itself

Opposition lawmaker
Venezuela's electoral authority has suspended the next phase of a recall referendum against unpopular President Nicolas Maduro.
It has sparked an outcry from the opposition, who have accused the Socialist government of dictatorial tactics.
Why do they want a referendum?
Maduro, a former bus driver and union leader elected three years ago to replace late leader Hugo Chavez, has seen his popularity tumble in line with the country's recession.
Maduro's opponents had vowed to push for a recall referendum against him this year.
If successful, it would trigger fresh presidential elections that polls show Maduro would lose.
The opposition needed a referendum this year because, under Venezuela's constitutional rules, should Maduro lose a plebiscite next year, his vice president would take over.
There would be no fresh election, denying the opposition their opportunity to take power after 17 years of socialism.
Maduro's rivals warn that, by preventing a democratic solution to the crisis, the government is stoking the chances of unrest in the country.
What do the authorities say?
The election board had already said there would be no such vote this year. It appeared to finalise the decision with its statement on Thursday night.
Citing court orders, it said it was suspending next week's drive to collect around four million signatures and trigger the vote.
Earlier on Thursday, Venezuelan governing party officials said several regional courts had voided an earlier signature drive by the opposition, due to allegations of fraud.
What is the background?
The oil-rich country is mired in a brutal economic crisis leading to food shortages and triple-digit inflation.
What they are saying
"We have a government of thieves, using power to maintain itself," – opposition lawmaker Jorge Milan says the Democratic Unity coalition is planning its response.
"We hope that justice will be served and that those responsible for this swindle will be detained," – Socialist Party No.2 Diosdado Cabello.
"The government is pushing a very dangerous scenario in which the crisis worsens," – opposition leader and two-time presidential candidate Henrique Capriles said on Twitter.