Libya seeks Italian help to curb migrant numbers
Comments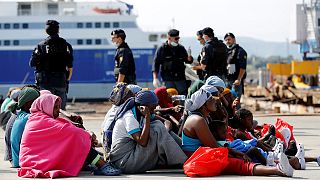 Libya and Italy are reportedly close to a deal aimed at curbing the number of migrants and refugees crossing the Mediterranean.
The potential agreement comes as thousands of people continue to make the perilous sea journey to Europe.
On Thursday some 1,400 migrants were rescued off Libya by Italy's coast guard, despite worsening weather as winter approaches.
According Corriere Della Sera, Rome is ready to provide extra support to Tripoli for it to better police its coastline. That is expected to take the form of new equipment, notably jeeps and patrol boats.
In September, Italy sent 300 soldiers and six doctors to set up a hospital in the city of Misrata.
Since an EU-Turkey deal in March, the central Mediterranean crossing from Libya to Italy has become the main migrant route to Europe.