Hollande to meet French police unions
Comments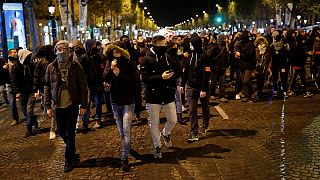 Security is key issue ahead of 2017 presidential election
Police say they are not well-enough equipped to defend themselves
Hollande to meet with union reps next week
French President Francois Hollande is to meet representatives of police unions next week.
The announcement follows a fourth night of unauthorised protests in Paris and other cities across the country.
Hundreds of officers protested at the Place de la Republique and the Champs Elysees in Paris.
Other protests took place in Bordeaux, Nancy and Toulouse.
#Hollande va recevoir les syndicats de #police «en début de semaine» https://t.co/BDdAhFimOh via Le_Figaro</a></p>&mdash; Jean-Marc Leclerc (leclercjm) October 21, 2016
What are the police unhappy about?
They say they are no longer sufficiently well-equipped even to defend themselves.
Two weeks ago, four police officers were petrol-bombed as they sat inside their patrol car by a gang in an area south of Paris.
Two of them were seriously injured.
The political fall-out
Political opponents are seizing on the unease to accuse Francois Hollande's government of failing on security.
Alain Juppe, the centre-right politician polls suggest may become France's next president, has criticised what he says is a loss of authority in the country.
Former president Nicolas Sarkozy has also criticised the government's response.
Interior Minister Bernard Cazeneuve met police unions on Tuesday.
He urged members to remain calm, saying the government had recruited two-thirds of around 9,000 staff after a drop of 12,000 under ex-president Sarkozy.
Criticism from within
A member of Hollande's own Socialist Party also raised pressure by calling on him to get tougher on gangland crime.
Malek Boutih also urged the French president to stand aside and allow another candidate to stand in next year's election.
"We need someone else with a strong personality to come forward, someone who can offer hope," Boutih said.
The comments coincide with the publication of an opinion poll which suggests 59% of respondents want Prime Minister Manuel Valls to run, against 40% for Hollande.
What they are saying
"I understand the anger of the police. I have never seen such an erosion of authority in this country," – ex-president Nicolas Sarkozy.
In tweets
Rassemblement policier devant l'Hopital Saint Louis à #Paris. #manifPolicepic.twitter.com/evsG0Kbvts

— Clément Lanot (@ClementLanot) October 18, 2016
Police. La colère monte. Plusieurs centaines de policiers manifestent à Evry. #ManifPolice#PoliciersenColèrepic.twitter.com/03s2oZ8goC

—

LINE

PRESS

(@LinePress) October 18, 2016
« Aujourd'hui, en France, on offre plus à un migrant qu'on protège la police. »https://t.co/R9cQMGFaF3 France, 2016, PoliceNationale</a></p>&mdash; Vincent Duchaussoy (VDuchaussoy) October 20, 2016