On-form world number one Kerber focused ahead of season-ending finals
Comments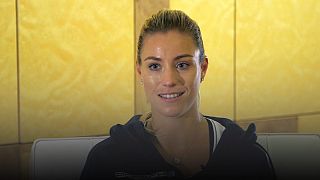 Angelique Kerber enjoyed a breakthrough season in 2016 – a year that saw the 28-year-old German win two Grand Slam titles – the Australian Open and US Open – and take over the world number one ranking from Serena Williams.
In Singapore, where the WTA finals kick off on Sunday, the left-hander from Bremen reflected on her stellar season so far and the added pressures that have come with it.
She explained: "When you win such a big tournament a lot of things change and you have to get used to it. I mean the pressure is even bigger after because everybody is expecting that you will win every tournament but it's not like that I mean it's sport and you never know what happens so I think you have to get used to it and you have to get like or have a great team around you that they are supporting you and just helping you with all the things which, which happen."
Kerber will be playing in her fourth end of season championships in Singapore looking to advance from the group stage for the first time.
"The pressure was very high for me last year and I think this year I was handling the pressure much better and I think this will never happen again for me so I think right now I will just trying to focusing more on the matches and not thinking about winning one or two games or sets to reach the next level here because that's not working, I know this and I think I learnt a lot from the last years," said Kerber, who last year only needed to take a set of the already eliminated Czech, Lucie Safarova, to advance but crumbled under the pressure and was beaten easily to exit early for the third time.
When asked her thoughts about the return of Russian Maria Sharapova in April after serving her 15 month doping ban Kerber said: "I know she is coming back next year and she will be ready for sure and she loves to compete and to playing tennis but for me it's really important to focusing on my really great year and enjoying every single single moment right now."
After Williams pulled out of the WTA finals on Monday due to a shoulder injury, Kerber is guaranteed to end the year as world number one – the first time a German female player has done so since Steffi Graff exactly 20 years ago.
World No.1 AngeliqueKerber</a> looking to cap career year at <a href="https://twitter.com/hashtag/WTAFinals?src=hash">#WTAFinals</a>--> <a href="https://t.co/XkCnsbzlYO">https://t.co/XkCnsbzlYO</a> <a href="https://t.co/063tsbhpHd">pic.twitter.com/063tsbhpHd</a></p>&mdash; WTA (WTA) October 17, 2016