Dalai Lama awarded citizenship of Milan
Comments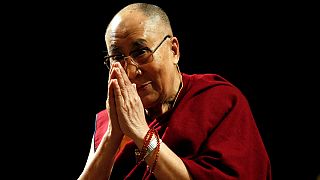 China has opposed another award given to the Dalai Lama, this time after the city of Milan awarded him citizenship.
Beijing says the Dalai Lama is campaigning for Tibet's independence from China and warned that the award will have an impact on relations with Italy.
Buddhism's spiritual leader, who won the Nobel Peace Prize in 1989, gave a characteristically humorous speech after receiving the award.
"I would like to know what is my right now and what is the duty. I want certain rights, I don't want duty," he told the audience.
Outside the theatre which hosted the ceremony around a hundred of the city's sizeable ethnic Chinese population protested against the award.
Asked about the protesters the Dalai Lama said Chinese embassies often organized protests against him – but sometimes the protesters didn't even know what they were protesting about.
Chinese companies have invested heavily in Italy in recent years, buying tyre maker Pirelli in 2015 and fashion house Krizia in 2014. A Chinese consortium has agreed to buy one of Italy's leading football teams, AC Milan.
The Dalai Lama, who is now 80, advocates a "Middle Way" for Tibet where it gets greater autonomy but not independence from China.
Have you heard of #Tibet? How much do you know about it? Here are 8 facts about Tibet, a country occupied by #China since 1950. #FreeTibetpic.twitter.com/fcL5f4WTtO

— Free Tibet (@freetibetorg) October 16, 2016
Tibet remains an autonomous region within China after Communist Chinese troops took control of it in 1950.