Spain: migrants end protest at Madrid detention centre
Comments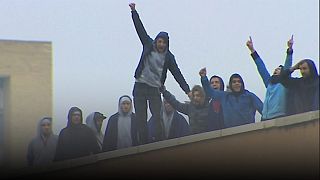 A group of about 40 migrants have ended a protest at a detention centre in Madrid after spending the night on the roof.
The migrants, said to be of Moroccan and Algerian origin, are angry at plans by the authorities to deport several of them. According to the police they had tried to escape.
There has been criticism of poor sanitary conditions at Spain's immigration detention centres generally.
An official from the city council at the scene agreed.
"This (detention centre) is a failed experiment, as the Mayor of Madrid said some months ago… these people are being denied their freedom because of an administrative issue, I don't think that's fair. Right now the important thing is the health and safety of the people who are in there," said Javier Barbero, Madrid Council security spokesman.
The protest ended after negotiations with national government and city officials.
The facilities are meant for migrants who arrive in Spain without a residence permit, who don't meet the conditions to seek asylum and then face deportation.