Direct flights resume between Madrid and Tokyo after 18-year hiatus
Comments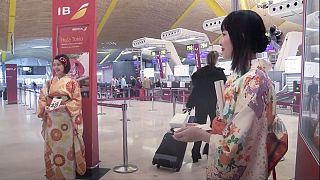 The first direct flight between Spain and Japan in 18 years has successfully landed in Tokyo's Narita airport.
Iberia, the airline operating the service, will run three non-stop flights out of the Spanish capital every week following growing demand from tourists in both countries.
The first flight, on Tuesday (October 18), was fully booked.
Record highs in tourism prompted the re-opening of a direct flight. Iberia announced the idea in January, 2016.
Over 600,000 Japanese tourists visited Spain in 2015, while around 80,000 made the trip to Japan.
The new service cuts down the travel time to between 13 and 14 hours, saving travellers over three hours in some cases.