Watch: Policewoman narrowly avoids being mowed down by own patrol car
Comments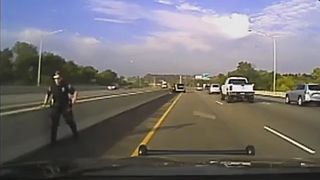 Dashboard footage shows the dramatic moment a policewoman narrowly avoided being mowed down by her own patrol car.
The officer, walking back to her vehicle after helping another motorists in Minnesota, had to quickly backpedal to avoid being crushed.
A pickup truck went into the back of the police car, sending it spinning across the road.
No-one was injured, according to the Hudson WI Police Department.