Parents of Chibok girls freed by Boko Haram appeal to Nigerian government
Comments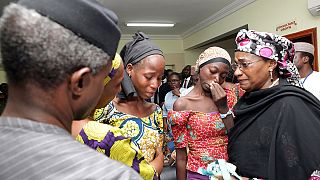 A week after some of more than 200 schoolgirls held captive by the militant group Boko Haram were freed, their parents have appealed to the Nigerian government to take care of them.
They are not physically ok, we appeal to the federal government to take care of their health

Parent of freed Chibok girl
Twenty-one girls who had been kidnapped from Chibok in the northeast of the country in April 2014, were freed by the group's main faction after the Red Cross and Swiss government brokered a deal.
"They are not physically ok, we appeal for the federal government to take care of their health. After taking care of their health, we want the federal government to take care of their education," said Yakubu Nkeki, a spokesman for the parents.
It took days for the freed girls' parents to be reunited with their daughters, due to the long drive to Abuja from the remote northeast where they live.
Another parent described how his child felt.
"She's feeling better now, she thanks God because she has freed herself as a victim, she's praying that the rest of them have the chance to come out," Emos Lawal said.
The 21 girls were reunited with their parents on Sunday. They had been held by the main faction of Boko Haram led by the group's established figurehead Abubakar Shekau.
A large group has been moving away from Shekau over his failure to adhere to guidance from the self-styled Islamic State, based in Iraq and Syria.
The Nigerian government believes his faction of Boko Haram is willing to negotiate the release of 83 more girls.
The remainder – estimated to be around 115 – are thought to be under the control of the splinter group, according to Garba Shehu, spokesman for President Muhammadu Buhari.
In recent weeks the Nigerian army has been carrying out an offensive in the Sambisa forest, a Boko Haram stronghold.
The extremist group has plagued Nigeria and its neighbours Chad, Niger and Cameroon.