Dolderer crowned Red Bull Air Race World Champion
Comments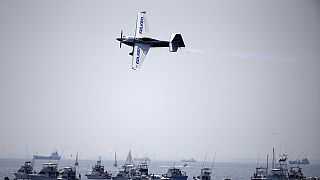 Matthias Dolderer was officially crowned Germany's first Red Bull Air Race World Champion on Sunday after the season's final round in Las Vegas was shortened due to high winds.
The 46-year-old won two of eight events this season enough to clinch the title ahead of Australia's Matt Hall while recently deceased Austrian Hannes Arch finished third in the overall standings.
Arch, who died in September after his private helicopter crashed in the Austrian Alps, was represented on the final standings podium by his girlfriend Miriam Holler.
Germany's Dolderer crowned 2016 World Champion: In a wild and windy season finale, pilot Matthias Dolderer wa… https://t.co/fBuyEyczli

— Island Sports News (@ISNNetwork) October 17, 2016